Mobil 1 and McLaren-Honda
There are two key jobs that Mobil 1 engine oil must do to help keep a Grand Prix car running like new. The first is keeping the internal surfaces in the engine clean and free from deposit build up. The second is preventing wear. If both of these jobs are complete, the drivers and the team can begin each race with the confidence to win.
The Car
A Grand Prix race car is a pretty violent experiment: The engine can rev up to 15,000 rpm, the gearbox withstanding 3,000 gearshifts per race, and exposed to temperatures of up to 300°C / 572°F. Our job isn't easy under these circumstances. Mobil 1 separates and cools more than 300 moving parts, withstands engine forces thousands of times greater than the force of gravity and protects against the stresses generated from a car with an output of over 600 brake horsepower. Mobil 1 and McLaren-Honda work together to make that happen – and our success on the track helps us develop road products that keep your engine performing at its best, year after year.
The Drivers
Jenson Button and Fernando Alonso know that Mobil 1 lubricants help to reduce friction and wear in all of the moving parts of their cars. What does this mean to them? More power in their hands and increased engine reliability on the track.
The Team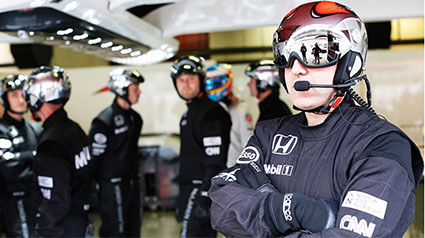 Mobil 1 and the McLaren-Honda team have the longest-running relationship of a Grand Prix racing team and an oil company. Mobil 1 have been there in the McLaren-Honda garage for more than 300 Championship races since 1995. Before and after the races, we're there at McLaren Technology Centre working on technological developments alongside their technicians and mechanics.
The Mobil 1 Technician
Mobil 1 technicians provide immediate feedback to the team, using the MAC (Mobil Analytical Centre) Unit. The technicians work with an oil analyser, which can measure up to 18 different elements in tenths of parts per million. They are able to accurately measure the particles in the engine oil, gear oil and the hydraulic oil. Giving highly detailed information back to the team on the health, the condition of the engine and the gearbox, improving reliability and performance.